Ready to create your dream senior downsizing business and have a richer, fuller life by helping others?
Take one course or take them all!
We offer multiple, flexible course options so you get the training you need most!

Introduction to Senior Downsizing
The Introduction to Senior Downsizing course is the perfect first step for those considering senior downsizing as a business. This seven-lesson course includes: defining a Downsizing Specialist role and the type of services they typically offer, the psychology behind a senior's resistance to transition and how Downsizing Specialists can help them overcome it, recent social changes that have created an even greater need for a Downsizing Specialist's unique and compassionate skillset and much more.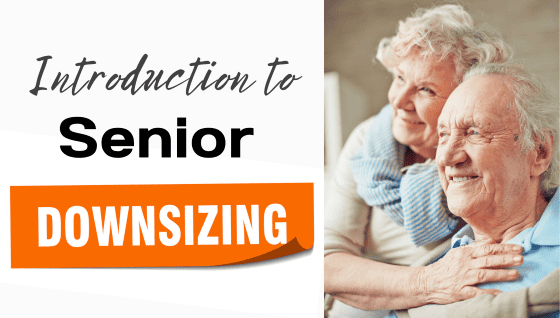 Business Start-Up Essentials
Ready to start your new downsizing business, but not sure where to start? This course will walk you through everything you need to setup, build and protect your business foundation. It covers contracts and liability protection (including insurance, licensing, disclaimer requirements, trademarking and more), legal entity choices and processes, which financial managements tools and resources are best for this type of business (including budgets, basic banking requirements and cost-tracking tools), choosing your labor options (employees vs. outsourcing) and what you'll need to set up a basic office.
Marketing and Branding Your Downsizing Business
Marketing and branding are essentials to the success of any business. This course starts by showing you how to easily identify and analyze your competition to find hidden service opportunities that are being underserved, plus ideas for how to set yourself apart from other competitors. Then, it will show you, step-by-step, how to brand and effectively name and market your downsizing business, including the types of advertising that work and don't work, how to create a marketing strategy funnel to consistently feed your business with clients and where you can find the best, low-cost and/or free marketing tools, services and resources that will help make your business shine!
Downsizing 101 – Skills, Strategies, and Tools
To create a thriving business, you need to be prepared to deliver stellar service! That requires having a clear understanding of the skills, processes and tools you'll need to do a great job starting Day One! This course provides a step-by-step, comprehensive training guide that walks you through the entire downsizing service process. You'll learn how to wow your clients from the initial client consultation to the conclusion of their move, determine the most effective pricing structure for your business model, how to create estimates, video tutorials on basic packing skills, which equipment and supplies you'll need, understand how mover policies can affect your business, review simple, but effective, inventory systems, 5-Star customer service tips and tons of strategies and processes that will save you time, money and stress. It's all here!
The Mastery Program includes all four Senior Downsizing Specialist Training Program modules: Introduction to Senior Downsizing, Business Start-Up Essentials, Marketing & Branding Your Downsizing Business and Downsizing 101: Skills, Strategies & Tools, plus three months of one-on-one business coaching (with a veteran senior downsizing specialist and coach) to support and guide you through the crucial first 90-days of business start-up.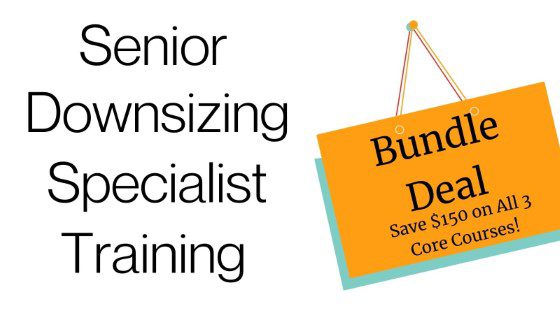 Senior Downsizing Specialist Training BUNDLE DEAL
For those who want to purchase the entire Senior Downsizing Specialist Core Program as a package, but don't want the coaching component of the Mastery Program, this bundle offers a savings of $150 off the combined retail price of the following courses : Business Start-Up Essentials, Marketing and Branding Your Downsizing Business and Downsizing 101: Skills, Strategies and Tools.